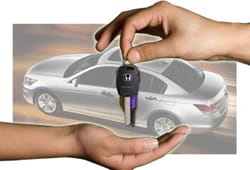 The Benefits of a Lease from Honda
Leasing is one of the most flexible financial instruments when considering a new Honda vehicle. There's the economic potential for less money down and the opportunity of an affordable monthly payment. And of course the flexibility of turning your Honda in at the end of your lease agreement versus trying to sell your vehicle.
Generally monthly payments are lower
Car value doesn't matter for future resale
Option to turn in at the end of the lease period for an updated Honda vehicle.
Buy or Lease from Honda?
The experts at Saccucci Honda can help you make your vehicle finance decision easier when choosing to buy or your are considering leasing your new Honda vehicle. The answer to buy or lease really depends on each individual's situation. Our finance specialists will ask you a series of questions to better assess your financial wants and needs. Some of the questions asked may include:
Is it important for you to own your vehicle vs getting a new vehicle every few years?
Is it important that you pay off your vehicle?
Lower monthly payments or long term cost savings?
To request more information on Honda lease programs or to just request more leasing information simply fill out the "Request More Information" form to the right and a Saccucci finance expert will contact you. If you are looking familarize yourself with other Honda products please visit our Honda Finance and Auto Products page here.