American Honda President's Award
Saccucci Honda has earned American Honda President's Award in 2015 for outstanding customer service and performance. This is the 3rd time Saccucci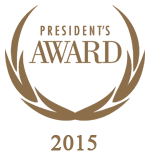 Honda has won this prestigious award! As Honda states, "The prestigious President's Award is only given to those dealerships that demonstrate excellence throughout all areas of their operations, including customer satisfaction, service, and sales."
American Honda Motor co., Inc. established the President's Award in 1995 to recognize Honda dealerships that excel across all dealership functions. It is the highest award that Honda bestows on its dealerships and only the top 15% of all Honda Dealerships qualify.
"When a dealership achieves the President's Award, it has reached the pinnacle for a Honda dealership," explained Dick Colliver, executive vice president of American Honda Motor Co., Inc. "We give the award only to the best in the business-those dealerships that focus on the total dealership experience for our customers, not just sales. "President's Award winners do everything well. And they do it well day in and day out," Colliver said. "Customers can be assured that when they enter a dealership with the President's Award logo on the door and the President's Award trophy in its showroom their experience will more than meet their expectations."
"Exceeding customer expectations is not an easy task. However, this is exactly what we strive to do every day here at Saccucci Honda," states Barbara Saccucci, General Manager of Saccucci Honda.
American Honda Council of Excellence Award
Saccucci Honda has earned the prestigious 2015 Honda Council of Excellence Award. This is the fifth time Saccucci Honda has won this award! This prestigious award has been bestowed on the best of the best Honda dealerships and Finance Departments who have outperformed their peers and delivered exemplary financial services.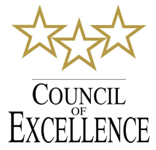 "As we strive to offer the premier financial services our Honda customers have come to expect, it's these dealerships - the Council of Excellence - that have delivered extraordinary financial services and demonstrated excellent teamwork that is valued by Honda customers. We are pleased to announce that Saccucci Honda has achieved 2015 Council of Excellence status," says Stephen E. Smith, Senior Vice President of Honda Financial Services.
American Honda's 2015 Council of Sales Leadership Members
We at Saccucci Honda would like to congratulate Karl Bisbano, Gary Rubin, Angelo Gutierrez, and Bill Mitchell for being a part of the Honda Council of Sales Leadership for 2015. The Honda Council of Sales Leadership is an annual recognition program designed to encourage professional development and sales excellence throughout Honda dealerships nationwide. By measuring sales volume, customer satisfaction, and professional knowledge, the program identifies consultants who excel at enhancing the customer buying experience.