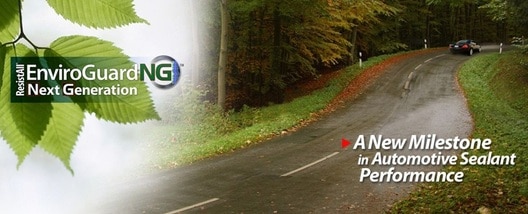 New "Nano" Technology - Meets the most stringent VOC-compliant guidelines. We are continuing the evolution of environmentally-compliant sealants. Backed by product warranties that set a new standard in the automotive industry. Preserving the Beauty of Your Vehicle.
Expanded Coverage For:
Aluminum Alloy and Chrome Wheels
Permanent Staining on Headlight Lens
Water Spotting on Chrome
EnviroGuard Next Generation gives you the following:
Exterior Coverage
Weather Induced Fading
Loss of Gloss
Hard Water Etching
Industrial Fallout
Bird Waste
Acid Rain
Tree Sap
Oxidation
Insects (including love bugs)
Road Salt
De-icing Agents (liquid or dry, magnesium or calcium chrloide
Accidental Paint Overspray
Headlight Lens (dull/fading)
Brake Dust (aluminum alloy & chrome wheels)
Chrome Water Spotting
Interior Coverage
Food & Drink Stains
Oil Based Stains
Fading
Cracking
Chewing Gum
Inks & Dyes (including clothing dyes)
Lipstick & Makeup
Crayons
Urine and Vomit
Blood
Pet Stains
Damage as a Result of Loss of Suppleness or Strength
V/L Punctures
V/L Tears
Loose Seam Stitching
Saddle Leather
Pigmented Plastics (door trim and consoles
Additional Benefits
Rental Car Reimbursement
Renewable for Life
Transferable (*No Fees for Active Military)
Available in 1 thru 7 Year Terms
New Car Definition/current year less 4 years/unlimited miles
All vehicles and certain vehicles and brands of vehicles may not qualify for all or any of these benefits. Please ask your business & finance manager for details.