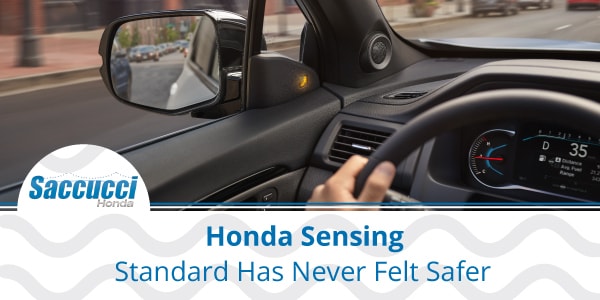 Cars continue to evolve and become all the more technologically advanced which is the case with Honda and their Honda Sense technology. With the number of distracted drivers and fatal car accidents growing at startling rates, the need for smarter cars is a necessity. With this serious issue increasing in popularity, car companies such as Honda, have realized the need for smarter cars to aid drivers for a more enjoyable and relaxed driving experience. Through extensive research, trial and error, Honda engineers have developed what is now known as Honda's Standard Honda Sensing Technology. This incredible technology works to keep drivers and everyone they may encounter throughout their driving experience, safer than before.
What is Honda Sensing Technology?
In the past few years, the amount of car accidents and fatalities that occur from them has risen drastically. Car manufacturers like Honda, have noticed this and have made it a mission to figure out a way to provide drivers with an extra pair of eyes while on the road. After much research, Honda gave the public what they call "Honda Sensing." This incredible technology is smart and assists drivers while on the road to keep everyone safe.
While the goal of keeping everyone safe is admirable, the question left is, how is this possible? In order to keep drivers and pedestrians safer on the road, while potentially reducing the number of accidents, Honda would need to create a Honda vehicle that essentially had a brain of its own. Honda Sensing combines two powerful types of sensors that are used daily by many. Radars and cameras are a great way to give drivers that extra pair of much-needed eyes on the road. When used separately each has its own strengths and weaknesses. The radio waves that radars emit help measure the distances of objects and their speed, and they are ideal for conditions where visibility is low. However, they are limited when it comes to identifying shapes and sizes; that's where cameras come in. Cameras are not ideal for conditions with low-visibility but they make up for what the radars lack which is shape and size identification. By combining these two forms of technology Honda created a brain for their Honda vehicles.
What Features does Honda Sensing Technology Consist of?
Just as a brain thinks and reacts immediately to certain situations, so does Honda Sensing. However, in order to do this, Honda had to program certain features for it to recognize and react to. Honda Sensing Technology consists of many useful and much-needed features that work hard to help drivers stay alert and focused.
Adaptive Cruise Control (ACC)
Cruise control is extremely helpful when it comes to long drives on highways. Unfortunately, that is the extent of its helpfulness; on highways. Cruise control can't be used while driving on your daily commute because you constantly have to keep stopping which turns off cruise control. Adaptive Cruise Control (ACC) however, comes into the picture with a fresh take on a much-loved driving feature. ACC allows drivers to choose their speed while maintaining your desired following distance from the vehicle in front of you even when in light traffic.
Collision Mitigation Braking System (CMBS)
This outstanding feature helps drivers in the event of a frontal impact. Once the system detects there is potential for a crash it begins to go through its actions to alert the driver so they may take proper actions to avoid a crash. The Collision Mitigation Braking System (CMBS) will only begin to alert the driver with sounds or visual warnings if the crash can still be avoided. If it is unavoidable the CMBS system will take over and begin applying the brakes to reduce the impact of the crash.
Forward Collision Warning (FCW)
Drivers can, unfortunately, become distracted which is exactly why driving is unpredictable. In an effort to further aid drivers, Honda Sensing includes a feature called Forward Collision Warning (FCW) that detects if there is the potential for a crash with vehicles right in front of you. The FCW determines the speed and distance of the vehicle in front of you and if a potential crash is detected it will begin sending the driver audible and visual warnings.
Lane Keeping Assist System (LKAS)
Steering on a curve and staying in the middle of the lane can be challenging. Without meaning to drivers can accidentally steer into another lane. This is where Honda's Lane Keeping Assist System (LKAS) comes in handy. This incredible feature helps drivers steer their Honda vehicles and keep them nicely centered in their designated lane on those tough curves. LKAS also helps drivers come back to the center of their lanes by gently steering if it senses they are drifting. LKAS will not under any circumstances drive the vehicle for you. This Honda Sensing feature is simply designed to alert drivers and guide them with quick, and gentle steering should they need it. If the LKAS senses no steering motion from the driver after a specific amount of time, then it will simply let the driver know with a message telling them to steer.
Road Departure Mitigation (RDM)
This Honda Sensing feature comes into play when it senses that the vehicle is leaving the road or crossing its designated lane. Road Departure Mitigation (RDM) identifies different lane markers and when a Honda vehicle strays from its lane or off the road it begins to send the driver audible and visual warnings or even tug the seat belt. If it senses that the driver is not answering its warnings it will begin to take action by slightly steering the vehicle back into its lane. If the RDM still senses that steering assistance wasn't enough it will then begin applying the brakes.
Why is Honda Sensing Technology so Important Today?
While being able to drive is something important and very useful, it has also become extremely dangerous. As previously mentioned, the number of car accidents continues to grow each year with no signs of stopping. This is exactly why Honda Sensing Technology is so important today. According to Safer America, about 1.3 million people die every year globally due to fatal car accidents. In the U.S. alone, Statista reports that about 34,247 car crashes were reported as fatal by police, with the Insurance Institute for Highway Safety (IIHS) adding that 76 of those fatal car crashes occurred in the state of Rhode Island. And of these numerous fatalities, Safer America claims that people of about 21 to 24 years of age had the highest fatality rate per 100,000 population.
These numbers are not only alarming but cry out and beg for a drastic change in the way vehicles and drivers maneuver on the road. With the development of Honda Sensing, Honda puts its best foot forward and comes that much closer to realizing their dream of a "Collision-free society." Honda vehicles are intelligent and aid drivers during quick-thinking situations. With features such as the Pedestrian Collision Mitigation Steering System, pedestrian crashes can be avoided and fatalities can be lowered. Honda Vehicles use its radar and cameras to detect pedestrians and send audible and visual alerts to the driver if a collision is detected. It also turns the steering wheel in order to help the driver avoid colliding with the pedestrian.
Honda Sensing Technology not only helps drivers avoid collisions but also eases the drivers' burden while on the road. With Traffic Sign Recognition your Honda vehicle is the second pair of eyes you need to keep you alert while driving. Its camera recognizes the different traffic signs such as speed limits, stop signs, no-entry signs, etc, and alerts you by displaying a message on your dashboard. Coupled with the Blind Spot Information System, the vehicles radars detect when there are cars coming alongside or behind it and it notifies the driver with a visual alert on either of the side mirrors as well as with an audible alert. Without a doubt, Honda Sensing has filled a need in our society today in order to keep drivers and all they may encounter much safer.
Which Honda Models Have Honda Sense Technology? (List a few models)
Although Honda Sensing is extremely helpful, it is also still rather new to the market and has not yet been made standard on all of Honda's vehicles. However, it is present in the majority of their new models and will shortly be made standard for all. According to Road Show, Honda plans to make Honda Sensing Technology standard throughout all of its vehicles by 2022. In 2018 alone, about 69% of 2018 model Honda Sensing already had Honda Sensing equipment. If you're looking for a sportier ride, Saccucci Honda's got you covered. There's no need to compromise a sporty look with safety because the 2019 Honda Civic Sedan is fully equipped with Honda Sensing. If a family car is more along the lines of what you're in the market for, Saccucci Honda provides the 2019 Honda Passport to service all of your family needs. From spacious cargo space to state of the art technology including Honda Sensing. You can cruise in a sporty, everyday, or heavy-duty kind of way because even the 2019 Honda Ridgeline is fully stocked with Honda Sensing Technology to keep you safe and more alert while you're out there working hard. These are just a few of the numerous Honda vehicles that possess this incredibly new and efficient technology. If you're interested in finding out what other vehicles have Honda Sensing visit Saccucci Honda, go for a test drive and find your perfect Honda vehicle!
Once You Drive a Honda You'll Never Go Back!
Choosing the right car is often a challenging task, that's why Saccucci Honda is here to ease your conscience! With tons of vehicles to choose from, we offer nothing but the best with new models such as the 2019 Honda Accord EX Sedan fully equipped with Honda Sensing to keep your car brand new and to keep you safe and sound. And if you're looking for a family car but you're not sure just how safe a Honda vehicle is, take a look at how the Honda CR-V stacks up against the Toyota RAV4 in this in-depth comparison from one of our previous blogs. Saccucci Honda is here to help you find your perfect Honda vehicle to keep you as safe as possible. Trust us and we promise that once you drive a Honda fully equipped with Honda Sensing, you will never want to look back!