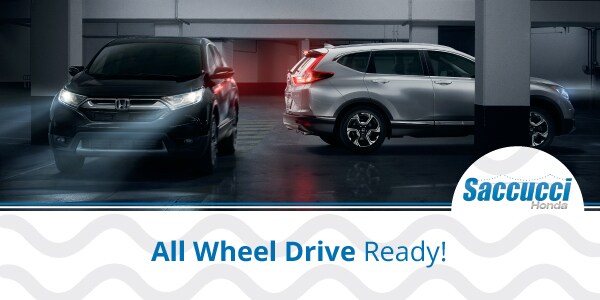 You may still be thinking about one more trip to the beach, but when winter weather arrives in Southern New England, it comes quickly and often unexpectedly. If you're already piloting a Honda all-wheel drive vehicle that delivers power to all four wheels, you've got much of it covered, but the time to consider your vehicle's winter worthiness is BEFORE that first snow falls.
All-wheel drive, featured on numerous Honda models, offers a pair of differentials at the axles that split the power to the front and back wheels, improving traction and handling in bad weather because the other three wheels can compensate if one encounters a slippery spot. AWD offers a more technically advanced and driver-friendly experience for the road, even when weather conditions deteriorate.
AWD is featured on models such as the Accord, Civic, Odyssey, Pilot, Ridgeline, CR-V and HR-V.
Okay... so you have the right AWD new or pre-owned certified Honda. Here are the top five things you should start thinking about before winter weather arrives.
1. BATTERY: The cold can sap up to half the energy from your Honda's battery, so have it tested at your next oil change. It may need a recharge…or a replacement. Better to know that now than when the first Arctic blast is bearing down upon us.
2. WIPER BLADES: If they're smudging your windshield in an autumn rain, they won't be clearing it of ice and snow come winter. Get in the habit of changing them every six months or so, making sure you get a fresh pair in the fall so you'll be ready for winter storms.
3: TIRES: Whether you opt for snow tires or all-weather rubber, 'tis the season to be vigilant, for a number of reasons. First, keep an eye on the tread – finding yourself in a spin during the first snowfall is NOT the time to learn it's worn out. Secondly, keep an eye on the pressure – cold temperatures will lower the air pressure, and you don't want to be out there with underinflated tires. Keep an eye on your Honda vehicle's tire pressure sensor on your dashboard. If a tire needs to be replaced, you're well advised to change both rear or both front tires, if not all four, to keep your ride smooth and safe. Finally, if you can, keep a spare or temporary tire in your trunk, just in case the best-laid plans fail.
4: HEAT/DEFROSTERS: Your defroster is your best friend in a storm…or your worst enemy if not functioning properly. On those first cold nights or mornings, make sure the clearing air is coming up through your windshield (and your rear windows). Check your windshield washer to make sure you have enough wiper fluid. Make sure you have your snow brush/ice scraper handy inside the car. Finally, test your vehicle's heater before it really gets cold to make sure it works.
5: OIL CHANGE: A great place to catch some of the issues we haven't covered. If you have it changed by a Honda service pro, ask to have your radiator and heater hoses checked– if they're too brittle or too soft, get them changed pronto. Get your antifreeze checked (or if you do it yourself, put in a 50/50 mix of antifreeze and water to keep your coolant from freezing). If you change your own oil, use multi-viscosity oil with a "W" in the viscosity index, which should maintain its flow year-round.
Like a good New Englander, be prepared! If you need any of these services on your car even if it is not a Honda, we can help. Saccucci Honda in Middletown has a state of the art first-quality service and maintenance center. We have customers from all over RHode Island and Massachusetts. Our technicians are all certified. Plus, while you wait, you can enjoy free WiFi, coffee and snacks in our customer lounge.
For more information or to schedule your service appointment now get more information here. https://www.saccuccihonda.com/schedule-a-service-appointment.htm