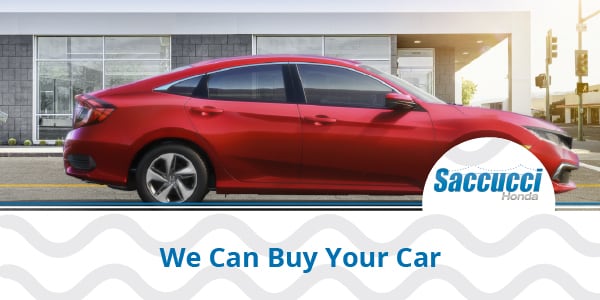 So you are asking yourself, wait, Saccucci Honda is Buying Cars NOW? The answer is yes!
The fair, honest, and efficient family-owned company
many rely on for a hassle-free car buying experience is also in the business of hassle-free car sales.
Saccucci Honda offers quick cash in a safe and simple process.
We will happily travel to appraise your car for free!
Our appraisal process includes a visual walkaround of your vehicle and we use vehicle appraisal software that compares actual vehicle sales data to ensure you are getting top dollar for your car.
The Saccucci Honda car buying program is proven to be a great benefit for many:
- Those celebrating an unexpected move due to career relocations or military assignments
- People who don't have the time to create and manage an online advertisement, and the
frequent visits with strangers that follow
- Anyone who needs to sell their car fast because of a tough situation like loss or divorce
- People who have reached their limit with frequent repair and part replacement on their vehicle.


Selling a truck or car is rarely viewed as a pleasurable experience. Add in the stress of wanting to sell it
quickly and you have quite the headache to confront.
Saccucci Honda is the dealer you can depend on to relieve the frustrations that come from private party
sales. And just to take the convenience factor one step further – you won't even need to make a trip
into our dealership to cash in on the Saccucci Honda car buying service.
We will come to you.
We will give you a check the very same day!


So, if you were wondering if you can sell your car to a trusted dealership under almost any circumstance,
and any condition…the answer is a comforting YES.
The Saccucci Honda team of experts is ready for your call or online query. We will come out to appraise
your car, give you a legitimate offer, and at a time that is convenient for you. This service is completely
free, reach out to us today!