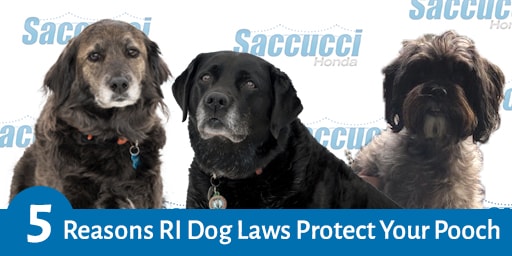 Dogs & Cars, Two Things We Know & Love!
Here at Saccucci Honda, we LOVE our dogs. So much so, that on any given day you may find three in-house. In our sales department, we have Koula and Sadie and in the
Body Shop
we have Remmy. All three of these fabulous dogs are loved by our employees and our customers. Visit anytime for some "canine companionship."
My husband and I have three dogs who keep us VERY busy. Even though I own and love three dogs, I am not so sure about the laws that are currently in effect in Rhode Island, pertaining to dogs in cars, are you?
What Exactly is the Law for Driving with Dogs in RI?
I thought I would share with you what I have dug up about RI dog laws. Since 2012, it is the law that dogs being transported in a vehicle be either in an enclosed space, such as a crate or secured with a harness or pet seat belt. They may also be under the physical control of another person in the vehicle other than the driver. Violation of this law can carry a fine of up to $200.00 depending on the number of offenses. FYI, Saccucci Honda sells seat belt restraints for dogs right in our
parts department
.
Now, as for a dog riding in the driver's lap, there seems to be varying facts depending on the state. Some sources say that Rhode Island and Hawaii are the only states that ban dogs from riding in a driver's lap. Others say that dogs riding in the driver's lap was introduced as a law in 2013, but there is no record of this being put into law as of August 2018. Hmm, well that's a bit confusing!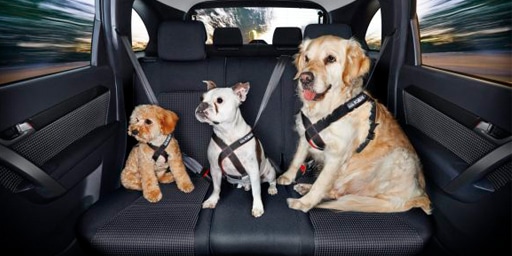 We all know it is dangerous to have our beloved pets on our laps while we drive. It's distracting and extremely dangerous, since the impact from a deployed airbag can severely injure a pet. So driver be forewarned. Let's dive into a few other reasons why you should never leave your dog in the car according to RI dog laws.
1. Life-Threatening - Leaving any pet in the vehicle is harmful to their health and could even cause death if they are left long enough during warm temperatures
2. Pet Theft - Pets can easily be stolen from unattended vehicles, so be sure to remain accountable for your doggo. Also, avoid tying your pet up outside of a store or anywhere that someone could easily dognap them.
3. Brain Damage - Not only is leaving your dog in the car life-threatening, but it can also cause immense stress and anxiety for your pet.
4. Body Regulation - The colder temperatures don't excuse leaving your dog in the car. Just as they can overheat during the warmer months, your pet can get hypothermia during cool temperatures.
5. Face Prison Time or a Fine - In Rhode Island, you could face up to 1 year in prison or a $1,000 fine for leaving an animal in your vehicle. Simply be a good Samaritan and avoid leaving your pooch unattended.
What to Do When You Find a Dog Left in a Car
In the unfortunate event that you do find a dog in a vehicle, here are some steps you can take.
1. Write down the vehicle's license plate number, make, and model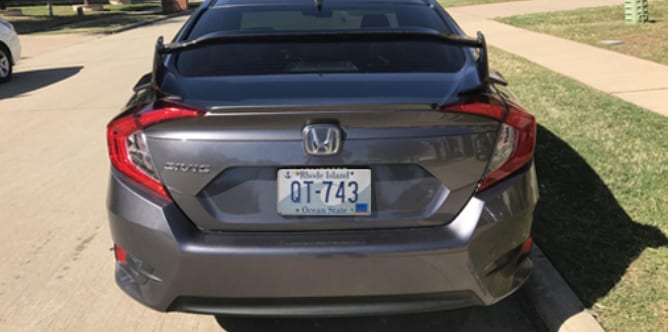 2. If you're near a store or location in which you can alert a member of management, go inside the building and inform them. They will typically make an announcement over the intercom notify the person.
3. After following both of these steps, call the local police department - particularly the non-emergency line.
Although dog laws vary by state, it is important to keep your precious pet safe and follow RI dog laws. But if you are reading this, I am sure you know to NEVER leave your pet in the car in the warm weather. If you do, I will call the police...