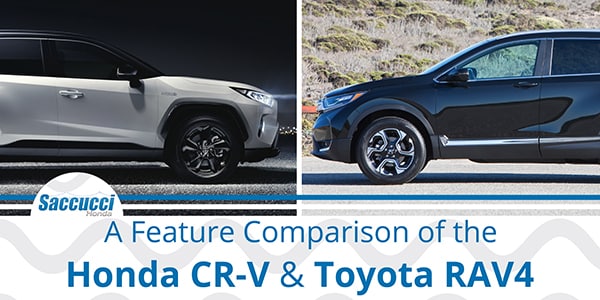 There are more driver distractions than ever, whether it be from poor weather conditions and long commutes, to mobile phone use while operating a vehicle. American Honda Motor Company has been at the forefront of driver and passenger safety for years. Honda's engineers have been focused on designing technology to predict and prevent collisions with state-of-the-art warning systems that can detect dangerous conditions. Their Honda Sensing technology has revolutionized driving safety with a series of safety features that help protect drivers from dangerous conditions.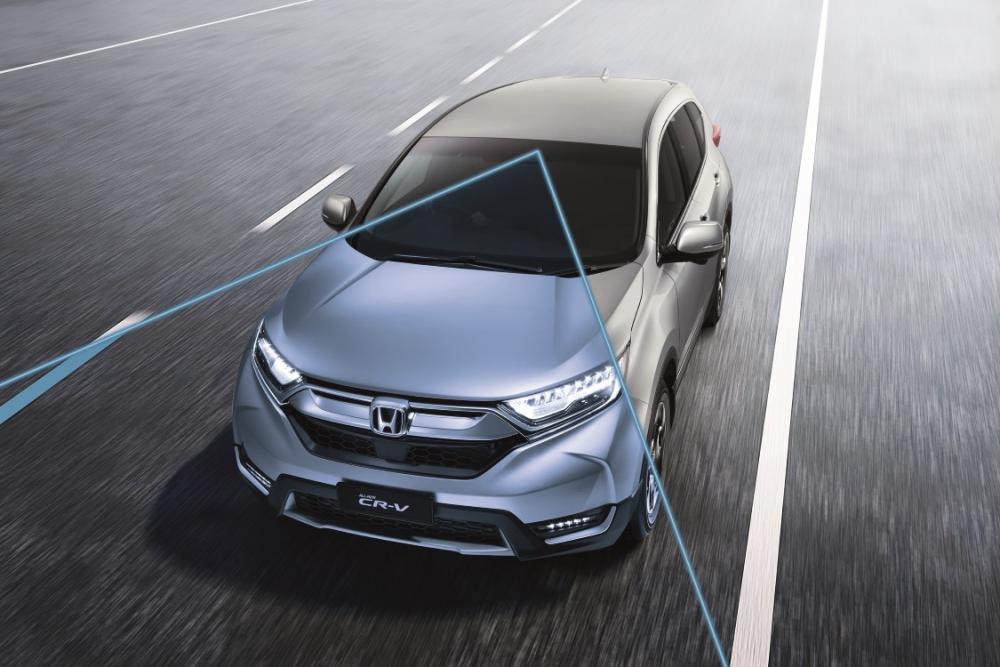 Not only do Honda vehicles warn you of road dangers and distractions, but they help prevent drivers from getting into accidents with their state-of-the-art safety features. In fact, Honda leads the auto industry above all other automakers with 6 top safety picks! Let's dive into what it is that makes Honda vehicles so safe, particularly the Honda CR-V and its many safety features.
The Honda CR-V is Equipped with State-Of-The-Art Safety Features!
1. Blind Spot Warning
– The side mirrors are both equipped with radar that will alert the driver with an illuminated icon and warning sound if a vehicle is in their blind spot. With this great feature, drivers don't have to physically turn their head to look before changing lanes. Instead, this feature warns drivers if a car is in their blind spot before they change lanes!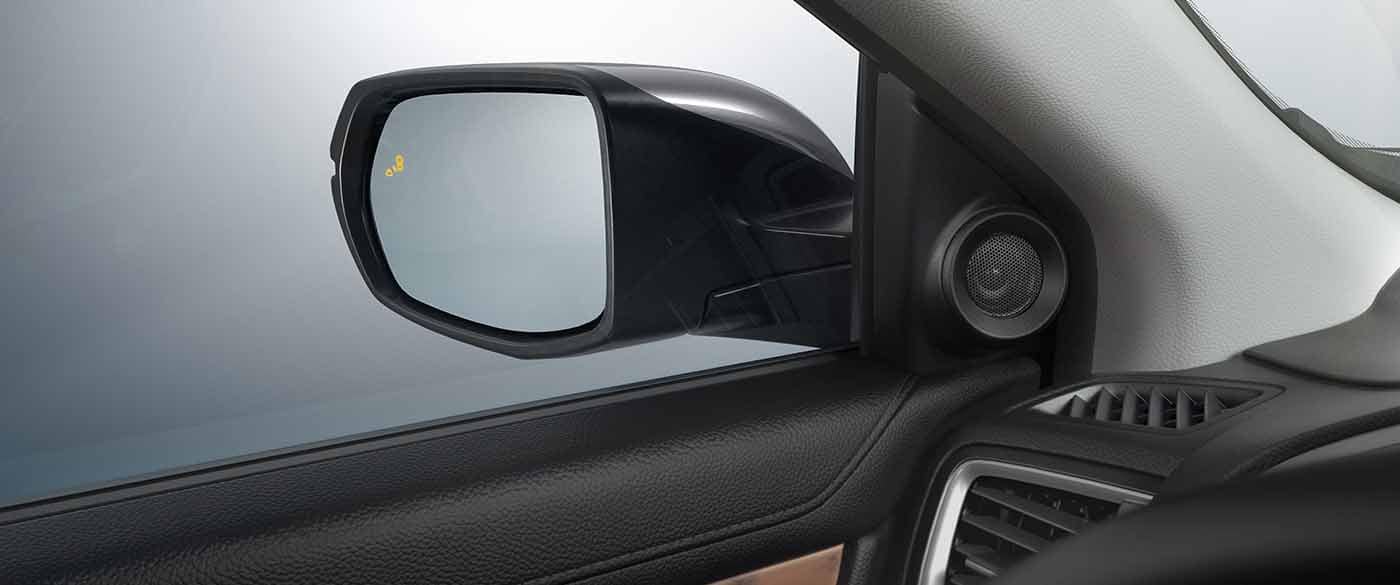 2. Forward Collision Warning System
– If there is a slowed, or stopped vehicle in front of you, and you have not made an attempt to apply the brakes, the dashboard will flash BRAKE and you will hear an audible warning to get your attention in time for you to apply the brake.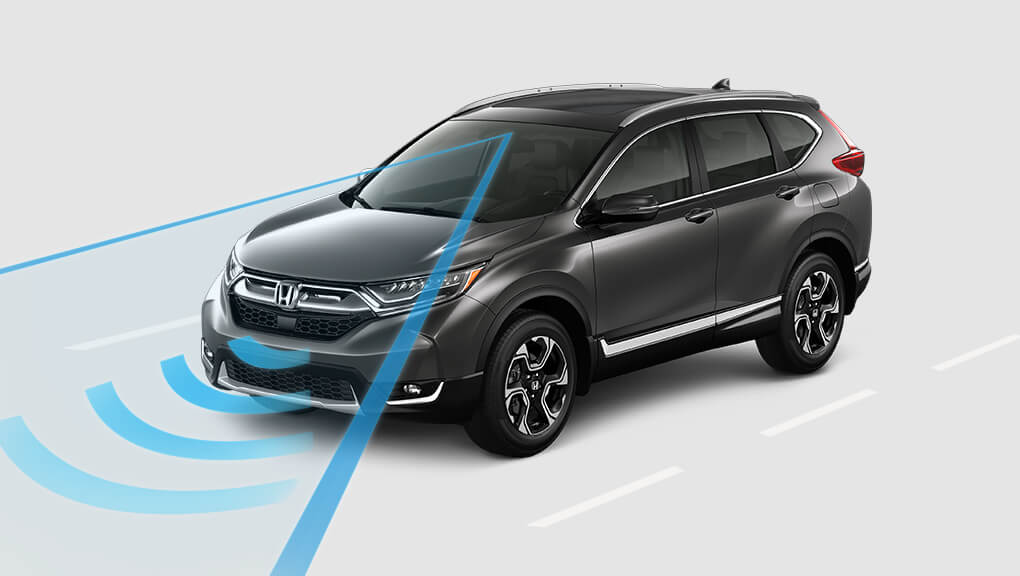 3. Back-Up Camera
– This feature is standard on every Honda. What did we ever do without them? When the car is put into reverse, the camera is activated and the driver has a full view of everything behind the vehicle. Parking assistance lines are also activated making every driver an impressive parker. Now, who wouldn't want that?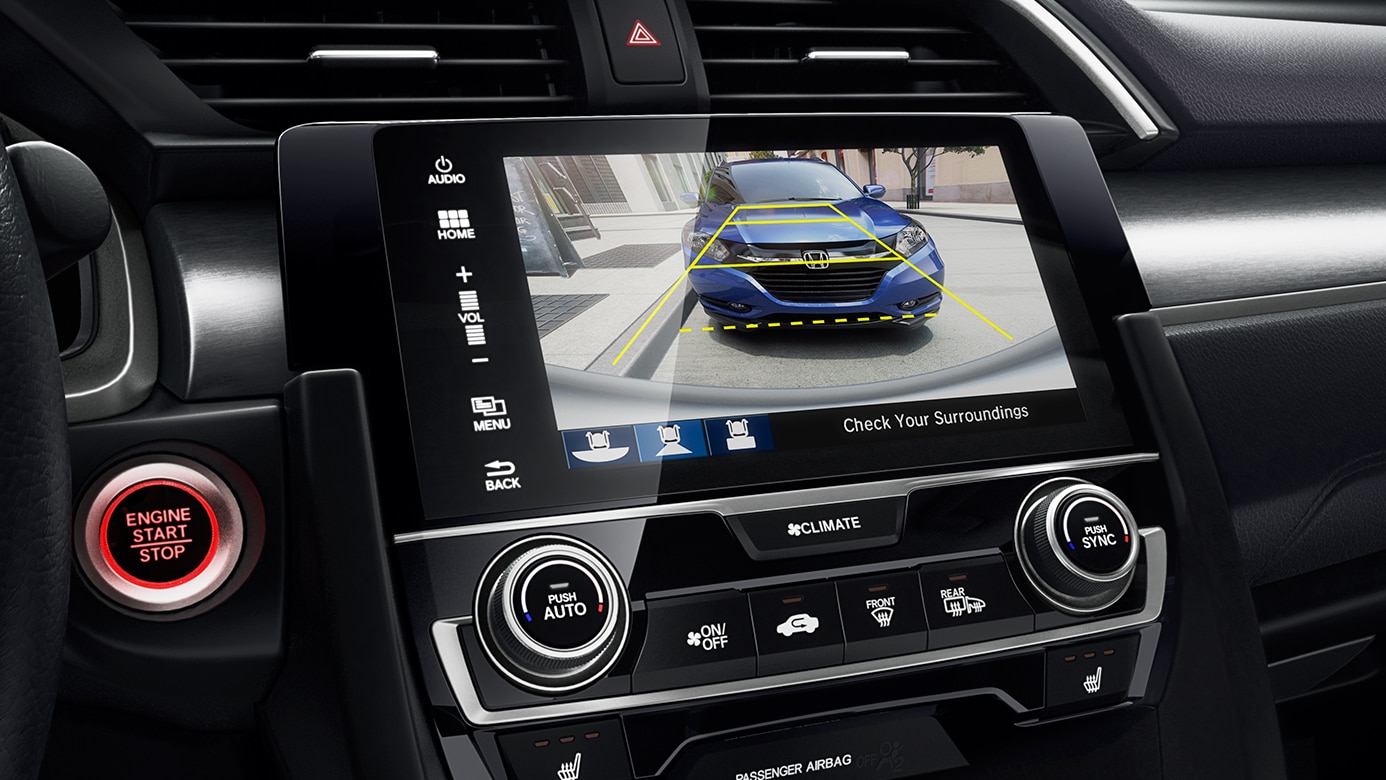 4. Lane Departure Keeping Assist
– This is one of the best Honda CR-V safety features! Lane departure keeping assist, will keep the vehicle within the lines, and warn a tired, or distracted driver if they are starting to drift from their lane with an audio and visual warning. The steering wheel will even vibrate to alert the driver.
5. Vehicle Stability Assist
– Thanks to Honda's engineers, this safety system has been standard in Honda's for quite some time. It helps the vehicle avoid sliding or skidding. This is accomplished by a computer linked to a series of sensors—detecting wheel speed, rotation, steering angle, and sideways motion. If the vehicle were to drift outside the driver's intended path, the stability-control system momentarily brakes one or more wheels, which reduces engine power to pull the car back on course. The traction control function helps maintain stability, and allows the vehicle to accelerate even on surfaces with a split coefficient of friction. This feature helps eliminate the possibility of a rollover accident.
6. Brake Assist
– This amazing technology consists of a microprocessor analyses that actually "learns" the driver's normal braking habits. Brake assist detects when a driver initiates a panic stop, (as opposed to ordinary gradual stops), and applies the brakes to maximum force. In conjunction with anti-lock brakes, the system enables threshold braking without locking up the wheels. Studies have shown that most drivers, even in panic stops, don't apply the brakes as hard as they could, so Brake Assist intervenes to reach the shortest possible stopping distance.
7. Adaptive Cruise Control with Low Speed Follow
– Highway driving just got less stressful! When this feature is activated, it can detect a vehicle ahead and help maintain a safe following interval by automatically adjusting your speed. When traffic slows so does your vehicle, automatically!
8. Passive Safety Features
– In addition to the amazing features above, the new Honda CR-V is designed with the following Passive Safety Features!
9. Ace Body Structure
– This Honda-exclusive body design enhances occupant protection and crash compatibility in frontal collisions by distributing crash energy more evenly throughout the front of the vehicle.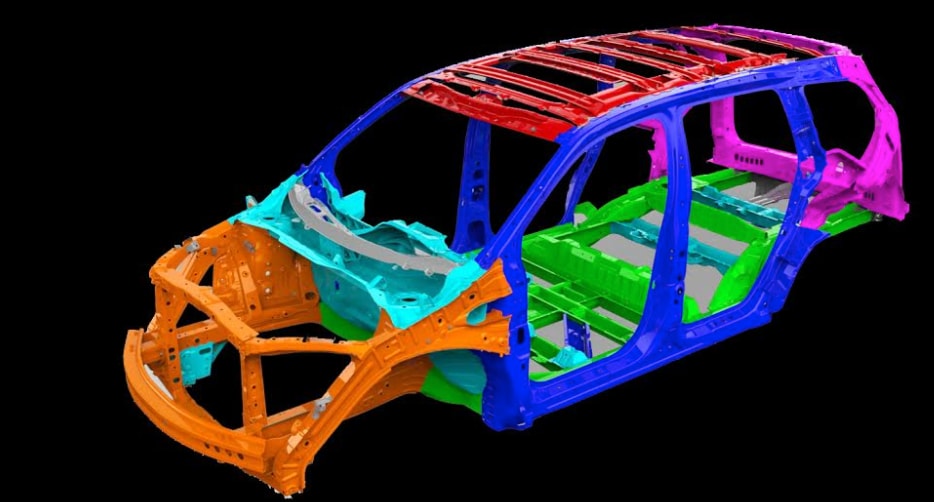 10. Front Seat Belts with Pretensioner and Load Limiter
– When a strong frontal impact is detected, the front seat belts instantly retract, then give slightly if the load on the seat belt exceeds a certain amount, reducing the pressure it applies to the occupant's chest.
11. Advanced Air Bags
– Every Honda is equipped with advanced front airbags to help protect you in the unfortunate event of a collision. The Honda CR-V is also equipped with
SmartVent®
front side airbags, side curtain airbags with rollover sensor and front knee airbags to help provide further protection.There certainly are several Honda CR-V safety features that allow consumers a safe and reliable drive whether it be the lane departure keeping assist, brake assist, or any of the other exceptional features! The Honda CR-V is a safe and stylish crossover vehicle you'll want to consider as a future ride!
What Sets the Honda CR-V Apart from the Toyota RAV4?
From the CR-V's forward collision warning system to lane departure keeping assist, it is no wonder that the Honda CR-V has earned a NHTSA 5-star safety rating. For drivers concerned about safety and reliability in a new vehicle, the 2019 Honda CR-V is a perfect choice. But what makes it better than its rival, the Toyota RAV4? Let's find out how the Honda CR-V stacks up against the Toyota Rav4!
Roominess
– When comparing the Honda CR-V to the Toyota RAV 4, the CR-V sets itself apart in terms of storage and space. The storage in the CRV is notable and easy to access. Not to mention, who couldn't use the extra room! In fact, folding down the rear seats provides up to 75.8 cubic feet in the CR-V and only 69.8 cubic feet in the RAV4.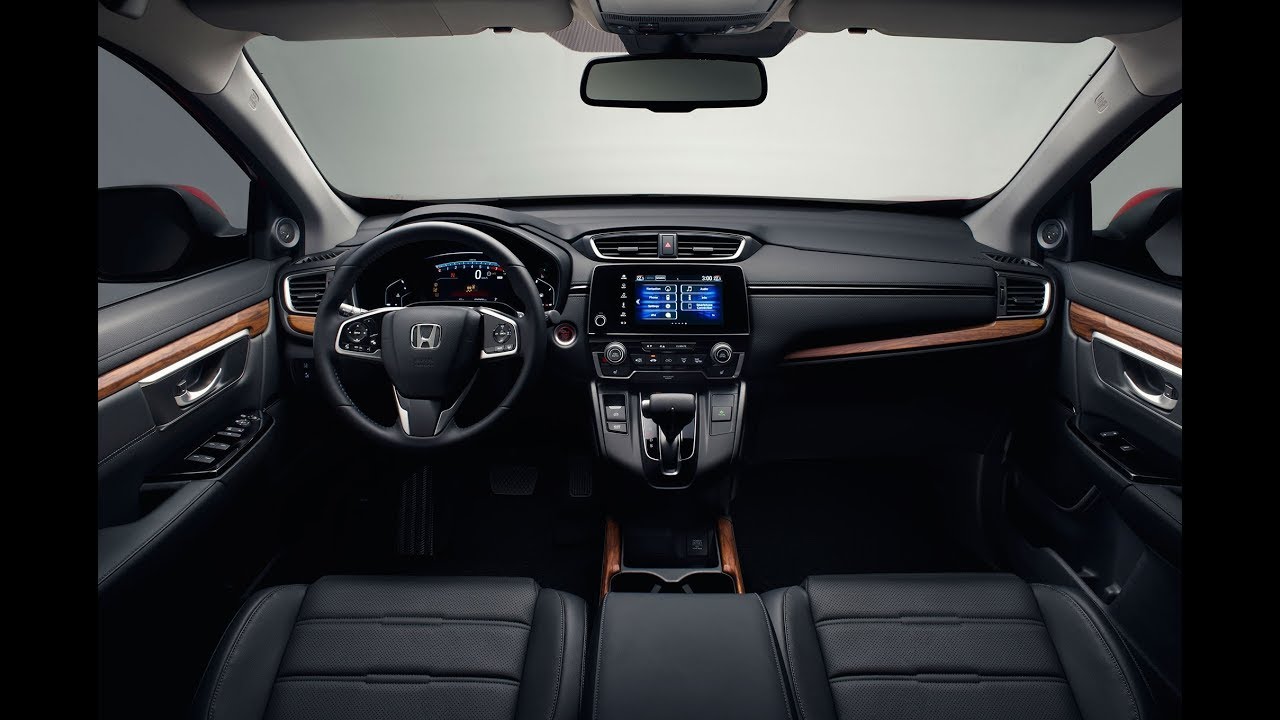 Standard Features
– The Honda CR-V automatically comes standard with several features that the Toyota RAV4 lacks behind on offering. Features like heated front seats, a leather-wrapped steering wheel, and shift knobs are only offered as optional features in Toyota RAV4 models, but they come standard in the Honda CR-V!
Fuel Economy
– The Honda CR-V also has a turbocharged engine. This feature gives the vehicle a real zip and you can feel the power on acceleration. As a result of this engine, the CRV has higher fuel economy and as noted, increased acceleration in comparison to the Toyota RAV 4, which uses a non-turbocharged engine. The Honda CR-V feels fun to drive!
Powertrain
– The Honda powertrain allows for more horsepower and miles per gallon, whereas the RAV4 has an outdated geared transmission.
Android Auto Connectivity
– For those who love listening to podcasts, the Honda CR-V offers Apple Car Play and Android Auto Connectivity. The Android Auto Connectivity is not available in the RAV4. The new Honda CR-V is perfect for consumers concerned with safety, roominess, drivability, and great looks! It has an aggressive look and firm ride, not to mention its great Honda Sensing® features including:
Forward Collision Warning

Lane Departure Warning

Collision Mitigation Braking System™

Road Departure Mitigation System

Lane Keeping Assist System

Adaptive Cruise Control with Low-Speed Follow
What Does Honda Sensing Offer that Toyota Safety Sense Doesn't?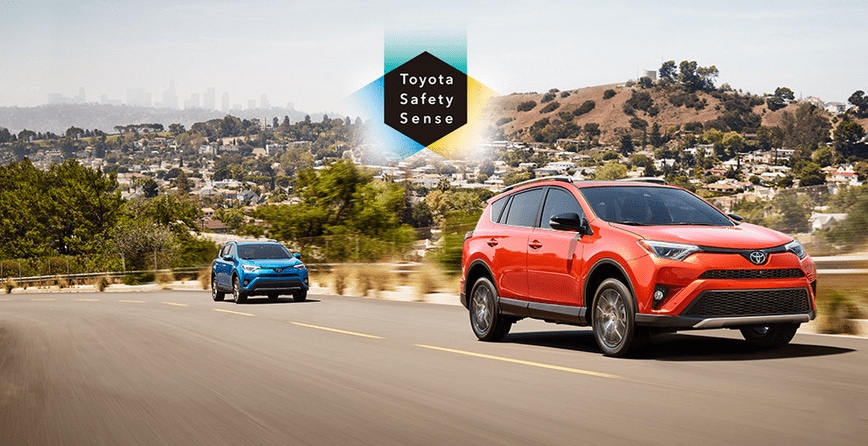 When compared to Toyota Safety Sense, Honda Sensing has several features that set the vehicles apart. Here are a few to note:
Honda LaneWatch™ – This innovative feature displays live video on your touch screen whenever you signal right

Blind Spot Information System – This alerts drivers when there is a driver in their blind spot, perfect to avoid a collision!

Lane Keeping Assist System – The lane keeping assist system helps adjust steering to center your vehicle between the lane markers

Cross Traffic Monitor – This feature warns drivers if a vehicle is approaching them from behind when in reverse

Lane Departure Warning- This prevents drivers from getting into a collision by warning them when they're shifting into the other lane

The Honda CR-V is a Safe & Reliable Vehicle!
If safety and reliability is at the top of your vehicle checklist, the Honda CR-V is a great pick! Not only is it among the top 12 best family cars according to Kelley Blue Book, but it's one of the best SUVs in its class and it was ranked #1 in Compact SUVs! This small, compact SUV is checks off every box with safety features that go the extra mile, technology, and practicality in price!
Are You On the Hunt for a Honda CR-V? Saccucci Honda Has a Large Inventory of Honda CR-Vs Right on the Lot!
If you're on the hunt for a new or
certified used Honda CR-V
, look no further than Saccucci Honda! We have over 50
new Honda CR-Vs
on our lot to choose from and several used Honda vehicles as well. Maybe you're looking for a different Honda model other than the CR-V? We have all models of new Honda vehicles like the
Accord
,
Civic
,
HR-V
, and many more! We've been in business for over 65 years, so you could say we know a thing or two about Hondas! If you have additional questions about the Honda CR-V's performance and reliability, please don't hesitate to
contact us
. Whether you're on the hunt for a vehicle that is safe or one that is affordable, we are sure you will love the Honda CR-V. Plus, it's the perfect vehicle for unpredictable New England weather!Sources:
One Ill Honda
,
Planet Subaru
,
Digital Trends
,
Boston.com
, American Honda Motor Co.