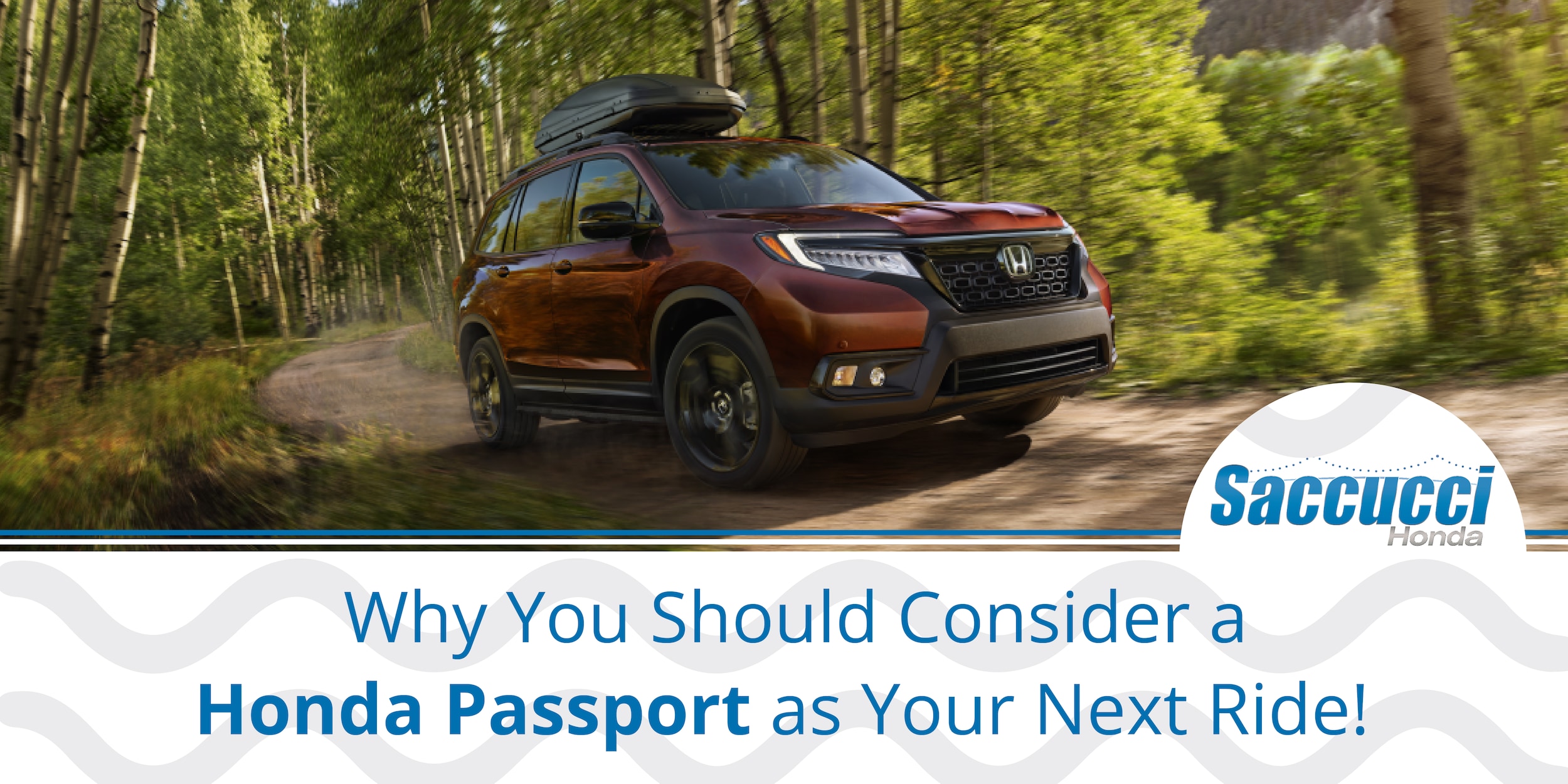 There is nothing better than packing everything together, getting in your car and going on a well-deserved summer vacation after a long year filled with hard work and stress. Whether you plan on going on a vacation this summer, or just need a car for your everyday needs, the Honda Passport is sure to satisfy. With new and improved features to better your driving experience, the Honda Passport is not just a copy of the Honda Pilot; it's so much more! So, hit the brakes, park, and let us piece together exactly why the Passport is so different and extraordinarily unique.
What's So Great About the 2019 Honda Passport Anyways?
It's no secret that many thought that the all-new 2019 Honda Passport was just a clone/ remake of the Honda Pilot. This midsize, two-row SUV is equipped with All Wheel Drive (AWD), 280-horsepower, a V6 engine, and comfortable seats that can be configured to suit just about any seating arrangement you may need. Its versatile interior design with lots of cargo space and even hidden storage compartments under the floor makes this vehicle perfect for long drives or off-roading. And if your adventures take you to a place with snowy conditions or you're just driving through Rhode Island roads, the Passport is fully capable to take you to and from your destination safe and sound. With independent suspension on all four wheels allowing them to react to any bumps the open road may throw in its way, and its smart traction management system, with a push of a button, this vehicle adapts to whatever terrain it finds itself driving on. All of these improved features sound amazing, but you may be asking, "So what? What makes this SUV better than the rest?" Let's dive a little bit deeper into its mechanics and features to better understand the Honda Passport and all it has to offer Rhode Island Honda drivers.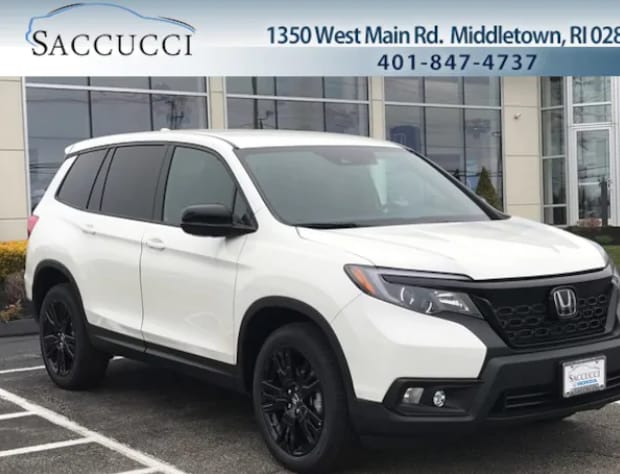 What Makes The Honda Passport Such a "Good" SUV?
To answer this question, let's start from the outside and work our way in to understand this vehicle in its entirety. Whether you like to go off-roading or just live in the unpredictable weather Rhode Island and Massachusetts throw our way, the Honda Passport has the wheels and traction for anything. The Honda Passport SUV is equipped with all-season tires ready to handle rain, mud, or snow and its smart traction management system allows it to adapt to whatever terrain you may find yourself on. Adding to this is the Passport's multiple off-road driving modes that it offers its drivers. With the push of a button, the driver can choose between normal, snow, mud, or sand settings for RI road conditions. Upon choosing one of these settings, the Passport will automatically adjust its traction to adapt to the environment making for a much safer and smarter drive. Now, under the hood of this vehicle is a whole new world of power. The 280-horsepower, V6 engine gives the Passport the extra muscle you need if you have to speed up or pull a little extra weight on your adventure. Sporting a rugged style while still maintaining a compact appearance for an SUV, the Passport has roof-racks that can support up to 165 pounds of the gear you need in order to make your life easier and packing up your car less stressful. It wasn't for nothing that the Honda Passport was named car and driver's best midsize two-row SUV!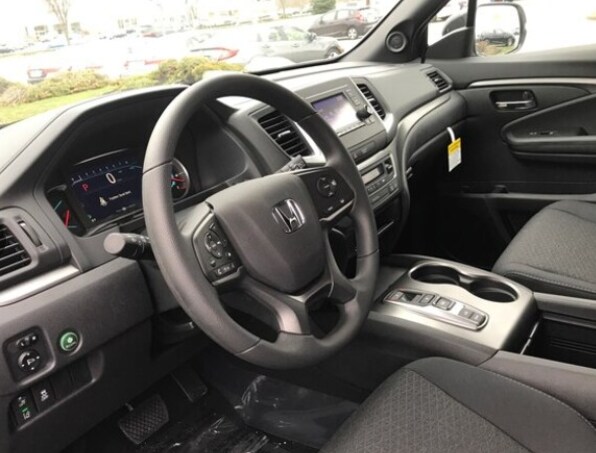 The inside of this vehicle is definitely a marvel and great for those looking for an SUV with ample cargo space and room for passengers. There's nothing worse than heading outside to load up the trunk of your car with both hands full of things and realizing you forgot to leave the trunk open. Now you'll have to put everything down and manually open the trunk. You could keep going through this, but with the 2019 Honda Passport, this is no longer an issue. If your hands are full and you forget to leave your trunk open, the hands-free power tailgate is your best friend! Simply lift your foot up toward the rear bumper of the car, the sensor will read it, and your tailgate opens right up. Better yet, if you do it again it will close just as easily as it opened!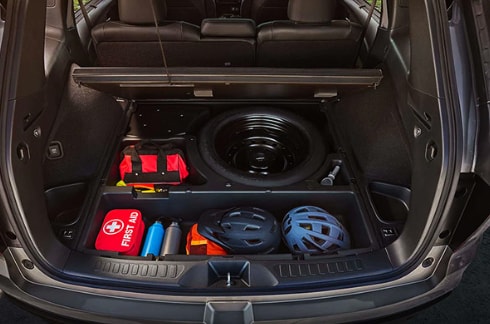 Loading the back of your Passport isn't the only made easier because of the tailgate sensor, but also because its interior is completely customizable in order to fit just about any type of cargo you may find yourself transporting. Its second row is comprised of foldable seats that fold down flat in a 60/40 split to allow you to maximize your trunk size if the need should arise. And if foldable seats weren't enough, just below the floor panel in the trunk is a hidden compartment that allows for even more storage and a very useful spare tire and tools.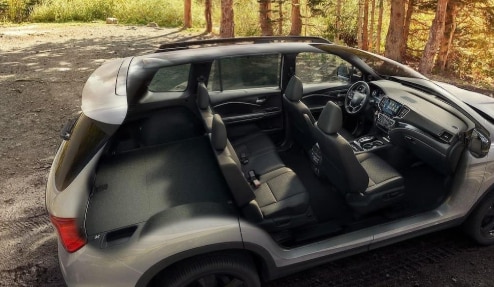 There is absolutely no way to talk about the seats in the Passport without stopping to acknowledge just how comfortable they are. The cabin in the 2019 Honda Passport is big enough to comfortably seat 5 adults with the second row boasting just as much space as the driver and passenger seats in the front. The leather-trimmed seats provide comfort for whatever drive you find yourself on coupled with ease of cleaning if ever a mess should arise.
Let's Let the Tech Talk
After working our way from the outside to the inside of the Honda Passport, we are finally ready to talk about the technology and essentially what makes it function so incredibly. With the rise in technology, people are more in tune with their electronics now more than ever. With this in mind, the 2019 Honda Passport definitely delivers when it comes to technology. It effortlessly connects with your smartphone with Apple CarPlay and Android Auto, allowing you to listen to your very own music on whatever drive you find yourself on.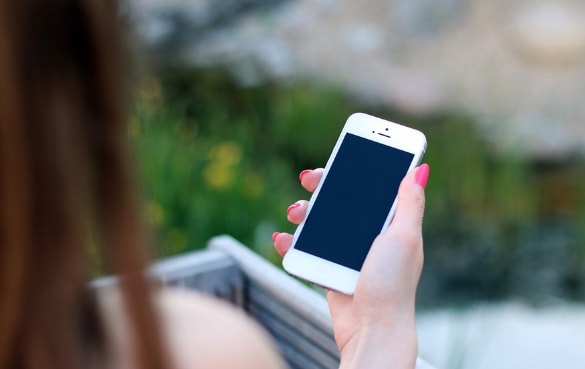 Better yet, by connecting your phone to the Passport, you can easily make and answer calls while never having to touch or look at your phone making for a safer drive for you and other drivers on the road. When it comes to charging phones and other electronics in a car, it's always a hassle due to all of the different wires everywhere. However, with the Honda Passport charging wires are a thing of the past. It boasts a wireless phone charging tray that requires no wires whatsoever. All you have to do is put your smartphone down on the tray and if it's charging the LED indicator will light up to let you know that your device is, in fact, being charged. And if things weren't technologically innovative enough, Honda has found a way to turn the 2019 Honda Passport into a moving hotspot for all of your devices. Once a data plan is established with AT&T, the Passport turns into a moving hotspot allowing its passengers to stream wirelessly for entertainment while you're on the way to your next adventure.
Say good-bye to the old navigation systems because the 2019 Honda Passport puts them all to shame. Its new Satellite-Linked Navigation System allows for on and off-grid use because of its satellite connectivity for those who like to go off-the-grid every once in a while. Like no other navigation system before the Passport actually displays buildings, road signs, and even the landscape on its navigation system in 3-D for its driver. Navigation is brought to a whole new level with this technology. And it doesn't stop there; finding and checking up on your car has never been made easier with the HondaLink app.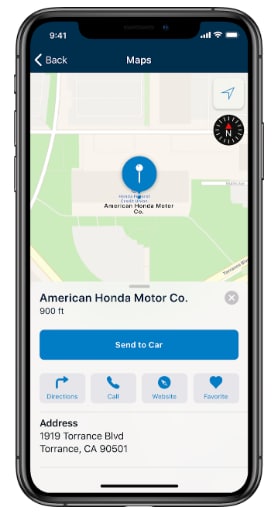 This simple app allows you to locate your car wherever it may be parked and it lets you check on your gas level in case you forgot so you don't need to manually walk outside and turn on your car to check. Are you interested in seeing the Honda Passport technology features for yourself? Come on down to Saccucci Honda and one of our expert sales team members will give you a first hand look at a new 2019 Honda Passport so you can see for yourself all that it has to offer. After all, we do have the best selection of Hondas in Rhode Island!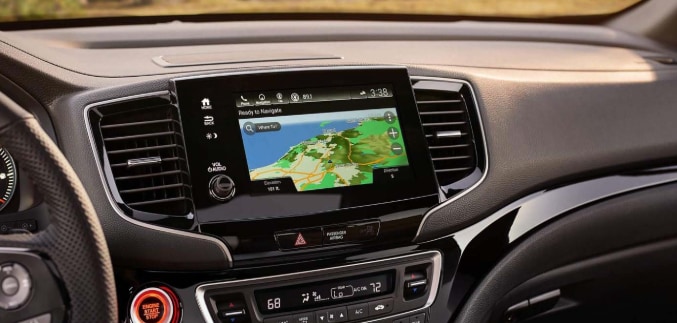 One of the toughest problems that many face with their cars due to the changing weather is having to turn their car on for a few minutes so it can either heat up or cool down. It really is a hassle to have to go outside in the freezing cold to turn on your car so it can heat up. Not to mention how horrible it is to have to get into a car that is burning hot after having been under the sun for hours. The 2019 Honda Passport has taken all of this into consideration and given its drivers a remote engine start that is unlike all others. This little piece of technology allows you to not only start your car but also choose to run what is known as the "Tri-Zone Automatic Climate Control." This addition helps your car automatically prep your car for you depending on the current weather conditions. So, if it's cold outside you'll be entering a nice and toasty car, while if it's hot outside you'll be entering a nice and cool car.
In an age where cars are often said to be an extension of their owners, the need for vehicles to be as customizable as ever is of utmost importance. The Passport is really a car that you can make your very own. It not only allows you to set different temperatures with Tri-Zone Climate Control for heating and cooling to keep everyone, both in the front and in the back, comfortable during the car ride, it also allows the driver to make the Passport remember their seat and side mirror positioning with "Driver's Seat Memory." The 2019 Honda Passport allows two different drivers to store their seat and mirror adjustments to easily be interchanged with the push of one button if someone else happens to drive your car.
When it comes to side mirrors, many forget or just don't realize just how important they are to drivers. For those who don't know, they are actually a very expensive piece of a vehicle to change or replace should anything happen to them. In an effort to prevent this, Honda knows that sometimes navigating into tight spaces is a must. That is why the 2019 Honda Passport has the power-folding side mirrors to help make the experience less heart-stopping. However, their features don't just include folding to accommodate tight spaces. The Passport side mirrors also automatically dim so that the glare from the headlights of other vehicles don't temporarily blind its driver, as well as heat up to promote optimum visibility for its drivers if they're ever in snowy, icy, or wet weather conditions that often impair side-mirror visibility.
Sensors That Give You Confidence
To add to all of the technology in newer models of cars, sensors have become very popular. However, the 2019 Honda Passport takes the idea of sensors to a whole new world. They not only make driving just a bit safer but also allow drivers to drive with more confidence and a lot less stress.
Which Honda Passport Trim Should I Get?
The Honda Passport is available in four trim levels including the Sport, EX-L, Touring, and Elite. They all differ ever so slightly in terms of features and functionality, with the Honda Passport Elite being the top level trim and the Sport as the base level. Let's dive into what makes them different!
What is the Honda Passport Sport?
The Honda Passport Sport is the base sport trim with all the standard features like 280 horsepower, a V-6 Engine, Honda Sensing technology, and underfloor storage. This base trim level has a smaller radio than other levels, but doesn't disappoint in terms of performance. It has remote engine start, rear privacy glass, push-button start, and many more features. It comes with standard front-wheel drive and AWD.
What About the Honda Passport EX-L?
A step above the Honda Passport Sport is the mid-level EX-L. This trim has standard safety equipment, blind spot monitoring, and heated front seats as extra features. In addition, it has leather- trimmed seats and a one-touch power moonroof. The larger 8-inch center screen radio is compatible with Apple CarPlay and Android Auto, which does not come with the Sport.
Should I Consider the Honda Passport Touring?
Maybe you're looking for something right in the middle? How about the 2019 Honda Passport Touring, which offers heated front and rear seats, a hands-free access power tailgate, roof rails, and much more. This level also offers illuminated beverage holders… woah!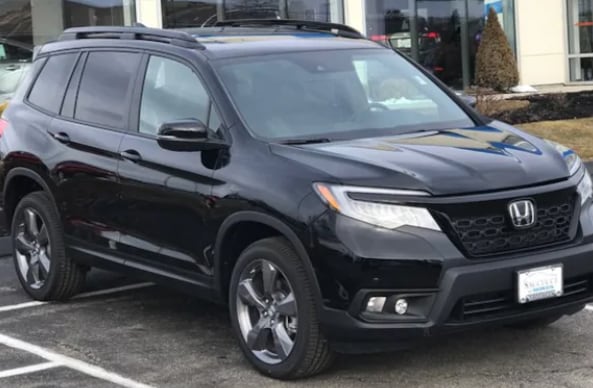 What About the Top Level Honda Passport Elite?
The Honda Passport Elite is the top-notch Passport with ventilated seats, LED interior lighting, and ventilated front seats. With the unpredictable weather New England brings, the rain-sensing wipers will come in handy in this upgraded Passport. In addition, it has automatic- dimming, power-folding, and heated side mirrors unlike the other trim levels.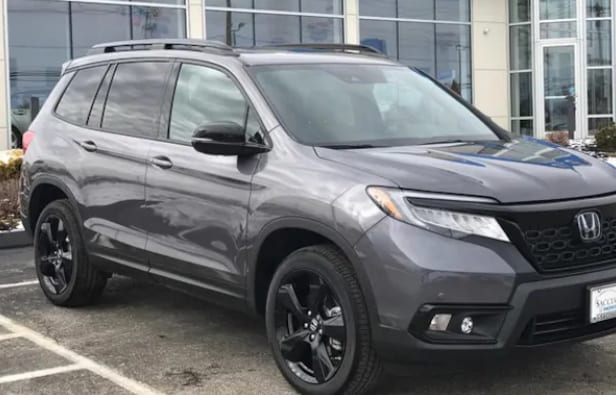 How Do the Honda Passport and Honda Pilot Compare?
The Honda Passport is the Pilot's brother. They are different in size; the midsize Honda Passport having more seating capacity than the Polit, but they have the same powertrain and 280-horsepower 3.5 liter V-6 engine. The Passport has more cargo capacity with the ability to seat five and under-floor storage available. Both vehicles received four stars for frontal crash and five for side crashes, so it's safe to say they are both safe… no pun intended!
Browse Our Inventory of 2019 Honda Passports at Saccucci in Middletown, RI!
So are you convinced yet? The Honda Passport is a perfect vehicle to navigate New England terrain and the unpredictable weather that comes along with it! If you're interested in seeing for yourself, we invite you to browse our inventory of stylish Honda Passports at Saccucci Honda in Middletown, RI or schedule a test drive! Maybe you have questions about which Honda Passport trim levels we have available? Feel free to contact us! After all, we are your number one Honda dealer in Rhode Island welcoming drivers from Middletown, Newport, Portsmouth, all of Massachusetts, and beyond! Our expert sales team will help you get behind the wheel of a new 2019 Honda Passport that you love.