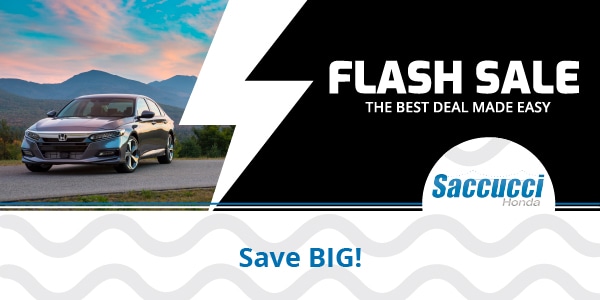 Car buying is rarely a spontaneous purchase. If you are fortunate enough to impulse buy a car, we salute you! But for most of us, a vehicle purchase is a calculated, researched endeavor. Loyal patrons of Honda have rest assured for years in the reputation our company stands for; safe, reliable, fuel efficient vehicles. So when is the smartest time to get into a new or used automobile at Saccucci Honda? During our popular, best for your budget flash sales. The ever-evolving nature of our industry means we have to keep inventory moving. For instance, did you know the sleek CR-V is available as a hybrid for the first time in 2020? The update to hybrid is exciting, electrifying, and means this beautiful design will capitalize on even better mpg.
Our lot is unable to keep up the most attractive inventory without constantly moving existing models out. At Saccucci Honda, we thought why not offer the absolute best deals to you to achieve what we need at the same time.
Our spontaneous flash sale is the perfect time to invest in a quality new or used Honda. Here's just a few of the advantages:
The Deepest Discounts on New — During the Saccucci Honda Flash Sale, we're attempting to
get rid of a large volume of inventory during a short window of time. To do so we offer the most
competitive pricing possible on the hottest cars and SUVs.
Bonus Offers — The great news about a Saccucci Honda Flash Sale is additional offers like
earning a bonus $200 gas card upon purchase of a new car. You'll already be feeling elated with
deciding on a new vehicle like the Honda Civic, which was graded near the top of US News'
compact car rankings for performance, cargo room, and fuel economy. But within the flash sale
period, we want to put even more pep in your step as a token of our gratitude.
Bottom-Dollar Used Deals — Saccucci Honda is extending the deepest discounts to our used
inventory as well. We're taking thousands off the Honda Pilot, known for its spacious cabin,
smooth ride, great performance, and consistent reliability. We have options available with such
low mileage, you'll get the absolute best value without the wear and tear.
It may be over in a flash, but we promise you'll enjoy a personalized visit with our caring team of Honda experts to find the vehicle that suits your family's needs, and at the very best price. No rush, no hassle, just a great day of trying quality automobiles on for size.
Come be our guest during the Saccucci Honda Flash Sale. It is the same renowned automobiles, with the same lowest percentage APR, but at far less cost to you. We are grateful for the opportunity to clear the lot so we can greet another round of innovative, amazing vehicles.