Saccucci Honda Consumer's Bill Of Rights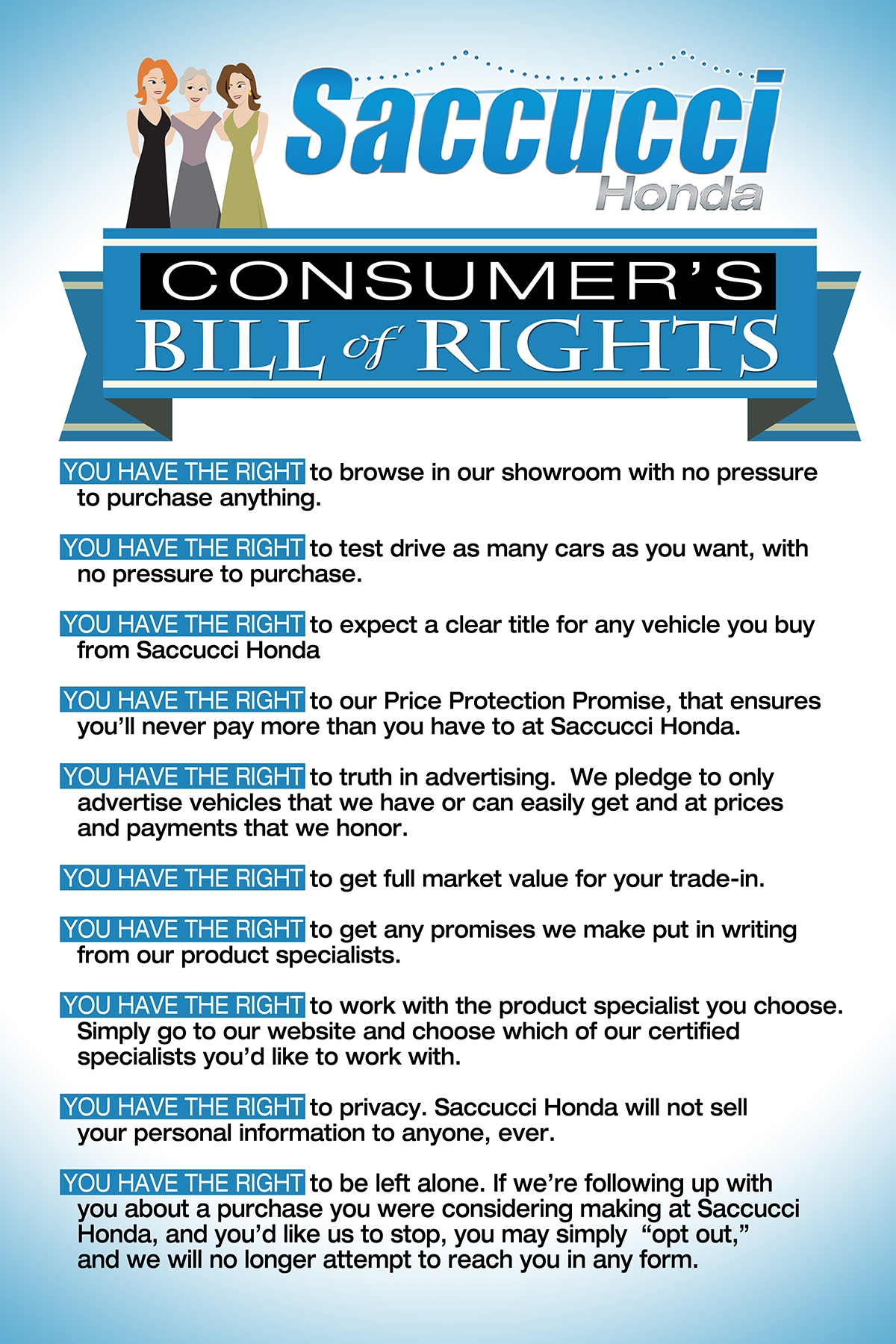 Saccucci Honda Consumer's Bill of Rights
Here at Saccucci Honda, we strive to provide excellent customer service throughout every interaction at our Middletown, RI dealership. We want to be transparent, whether you are looking for a new vehicle or you need service for your current car, truck, or SUV. We are happy to guarantee a set of rights to our customers to ensure that every interaction provides you with the experience you are looking for and helps you find the perfect solution!
Explore the Benefits of Saccucci Honda Consumer's Bill of Rights!
We believe in 10 different rights that our customers have when you work with the team at Saccucci Honda. When you shop with us, you have the right to browse in our showroom without feeling the pressure to decide on any particular model. We also want you to test drive as many cars as you want, without feeling like you need to decide on the spot for a particular one.
Once you choose a vehicle, you have a right to expect a clear title for any vehicle you buy from us. We want you to feel like you own the vehicle outright and feel comfortable with your purchase. You also have a right to our Price Protection Promise, which ensures that you will never pay more than you have to at our dealership. We also only advertise the truth, which means guaranteeing only vehicles that we have or can get easily at a set price.
We also guarantee that you will get full market value for your trade-in. You deserve the most for your current vehicle, and we ensure that you get any promise we make in writing. We also want you to work with the product specialist that makes you the most comfortable, whom you can pick out from our website before you even step foot in our dealership.
Most importantly, you have the right to privacy and to be left alone as you decide on what you want to buy. We will not sell your personal information to anyone, and we will only follow up with you about a purchase if you want us to.
We believe you have a right to a shopping experience right for you! Stop by Saccucci Honda and enjoy the benefits of our Consumer's Bill of Rights.