Keep Your Vehicle Looking Like New with One Streamlined Combination Protection Product.
Saccucci Honda is proud to include Allstate®  Complete Choice Protection Package as part of its line of vehicle protection products. Protecting your Honda investment from the unexpected can be taxing and costly. Our experienced Saccucci team is here to find the best affordable option for you!
Why Allstate®  Complete Protection Program?
Your Honda vehicle is an important investment. Whether it's a flat tire or ding in your door, your vehicle is susceptible to a significant amount of damage. Allstate® Complete Protection takes care of all aspects of your vehicle, inside and out. The Saccucci Honda/Allstate Complete Protection Program is the best of everything related to vehicle protection together in one package. This coverage helps protect your vehicle from expensive repairs out of pocket.
Allstate® Complete Protection has your vehicle covered no matter your needs starting with our Bronze level of coverage and building towards our comprehensive Platinum program.
Benefits of Allstate® Complete Protection
Tire and wheel repair or replacement: Up to $35 per tire repair ($45 per non-flat tire repair) or replacement if tire is non-repairable. Optional coverage for minor cosmetic damage to alloy wheels (up to $800 limit for the life of the contact). Covers the cost of mounting, balancing, valve stems and disposal of tire/wheel when it is repaired or replaced
Roadside assistance: Emergency roadside services, lock-out assistance and towing
Lock-out assistance
Key recovery/replacement: $800 benefit level for lost auto key per incident
Windshield: Repairs windshield cracks less than 6" long and 1.5 in diameterInterior: Rips, tears, cuts or burns less than 2" long
Repairs dings and dents: Covers minor exterior dings and dents less than 4" long
Domestic trip routing services: Access to travel information such as maps, trip itineraries, flight reservations and more
Hotel and rental car discounts: If your vehicle stays overnight at a repair facility, you may be eligible for rental reimbursement of $35 per day, up to three days
Trip interruption: Up to $100 per day of 100 miles from residence
Program is cancellable and transferrable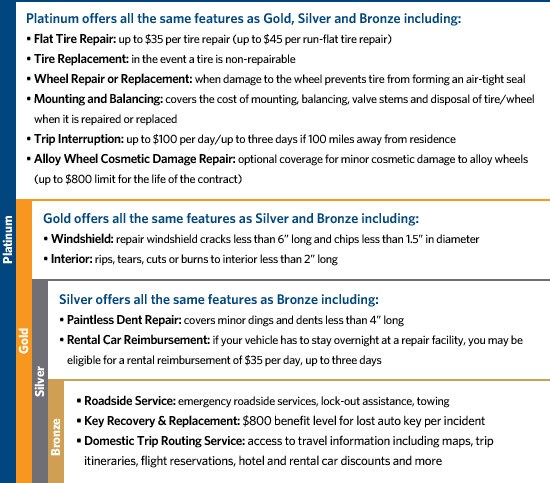 Still Have More Questions About Our Complete Protection Coverage?
Please contact us with any further questions about our Complete Protection Coverage.