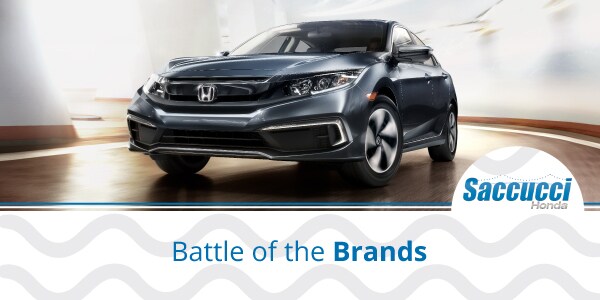 Honda Civic vs. Mazda3 vs. Hyundai Elantra: We Have A Winner
We at Saccucci Honda could talk all day about our favorite Honda models, particularly about the Honda Civic, our favorite compact sedan, and its family of models.
But buyers want to hear more than just talk. There are other well-known compact sedans, including the Mazda3 or the Hyundai Elantra, they may have seen on the road, in television commercials, or heard about from family and friends. They may consider purchasing one of them too. But smart auto shoppers compare factors including price, performance, and safety, and we're confident that, all things considered, we offer your best choice.
First, let's take a look at how the Civic stacks up vs. the Mazda3: If you look at the price first, according to Consumer Reports, the Civic comes out well ahead, more than $2,000 on manufacturer's suggested retail price (MSRP) and over $3,000 on market average (what you're most likely to actually pay).
But if you're not all about the price, let's take a look at the interior, safety, and performance, like Motor Trend recently did with its broad comparison of the 2019 models. The Civic, its reigning Big Test champ, faced the previous title holder and came out on top in every area.
The Civic interior offered more legroom and a dashboard and entertainment system with superior ease of control. The 1.5-liter engine model also offered superior performance to the Mazda's 2.5-liter power plant, along with better traction, acceleration, and braking. On safety, the Honda Sensing safety technologies suite made Honda a clear winner.
Next, let's match up the Civic and Elantra. On the CR price comparison, Elantra comes in at about $2,000 less on MSRP and $3,000 less on market average for the 2019 models. When it comes to getting what you pay for, however, the Civic will prove a much wiser choice.
Autotrader ran a matchup between the two models, and once again, a convincing decision went to the Civic. As it did above, the Civic gets the edge on legroom, along with general interior design. While both models offer engine options (two for the Civic and three for the Elantra), the 1.5-turbocharged Civic engine offered a winning combination of performance and gas mileage (32 miles per gallon city, 42 on the freeway). Honda's Sensing safety features, standard on the Civic, are only available as extras on the Elantra is most cases. If you consider the choice between the Civic and Elantra as an investment in performance, safety, and overall value, you'll likely be choosing the Civic.
But instead of simply believing what you read, experience the Honda Civic yourself - take one for a test drive at Saccucci Honda.