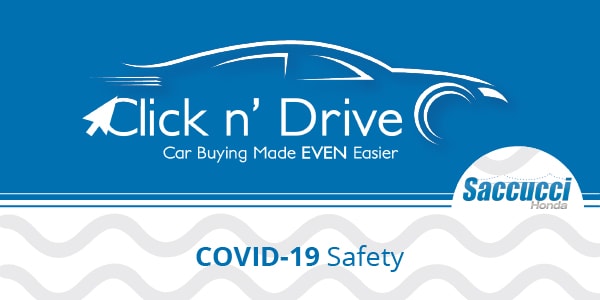 We understand this is a challenging and uncertain time with the developing situation surrounding the coronavirus. Heeding the advice of medical professionals, it is best if we can all reduce our time spent in public gatherings and reduce our exposure to unnecessary environments.
However, our reliance on vehicles will not fade during this time. Saccucci Honda wants to remind you of the option to buy and sell cars directly online. From the comfort and security of your home you can order a vehicle to be brought directly to your door or have your current vehicle purchased from the safety of your couch with Click n' Drive!
What are the benefits of going through our online Click n' Drive program?
For starters, transactions involving a vehicle can often be stressful, complicated and time consuming. With the elevated concern for limiting contact with other people, this will only add further challenges. Let our trained staff handle the process entirely. Whether it is a delivery or pick-up, our staff is equipped with the proper tools and procedures to conduct the process in a clean, sanitary and safe manner.
Second, we are aware of the economic burdens that may be felt at this time. Saccucci will contact you the same day and can even complete a transaction in the same period. The last thing you need to worry about is a stressful vehicle situation right now, go with our online Click n' Drive to make the process quick and simple.
We pride ourselves on being honest and efficient at Saccucci Honda. Our prices for purchasing vehicles are fair and competitive. Our appraisals use software to give you a legitimate offer to reflect top dollar value for your vehicle.
We want to stress again the importance of staying inside if you do not absolutely have to be out. Until we learn more about the Coronavirus it is important to exercise extreme caution. Please review our resources for buying or selling a car online through Saccucci. Now is a smart time to take advantage of our click n' drive service.
As a final announcement we have changed our showroom hours to be 9:30am to 5:30pm and we will operate later but by appointment only. If you prefer to come in person to view cars we will be allowing customers to take demo drives without a salesperson and are disinfecting and sanitizing the vehicle interior before and after test drives. We ask that you please be considerate of other customers and staff at this time. Maintain a healthy distance from other individuals and please stay home if you are feeling ill.